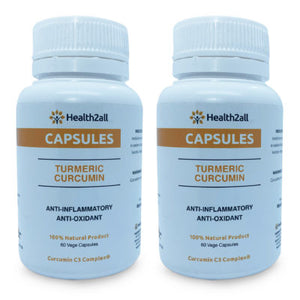 Containing Curcumin C3 Complex® WITH FREE SHIPPING!
Each capsule contains: Curcuma Longa Root extract equiv to dry turmeric 13grams (13000mg), equiv Curcuminoids 190mg with up to 20 times bio-availability of Curcuminoids 3.8g (3800mg) Piper Nigrum / Black Pepper fruit extract 10mg
Turmeric Capsules 2Go is a high potency, high curcuminoid formulation. The addition of MCT (medium chain triglyceride from coconut in a tapioca base) allows the body to absorb the turmeric. Black Pepper is known to increase increase the action of the curcuminoid x20 times. The benefits of Tumeric have been historically validated and is now sought after for its known effects.
SERVING SUGGESTIONS: Take 1 or 2 capsules per day
Best Times To Take Turmeric 2Go:
Capsules 2Go does not need to be taken with food or oil. One capsule delivers a minimum of 13,000mg serving of turmeric. 1 to 2 Capsules 2Go may be consumed daily or opened and sprinkled over cereal or a meal.
Excipient Ingredients:
MCT (medium chain triglyceride from coconut oil)
Microcrystalline Cellulose
Hypromellose (vegetable capsule shell)
60 capsules, will last for 2 months – using as directed

The essential ingredient in the exciting new formula Turmeric Powder Blend (Turmeric 4You) is, of course, TURMERIC. which has for centuries been used in exotic cooking as well as in the wide world of medicine.
Suitable for vegans, NO added sugar, palm oil, nasty fillers, preservatives, artificial colours, flavours, yeast, gluten, wheat, nuts or dairy products