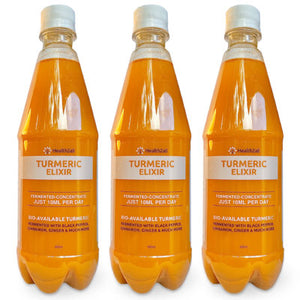 ZAP Fermented Turmeric Elixir Drink – BIO-AVAILABLE – SUPER STRENGTH - WITH FREE SHIPPING!
Rich in Probiotics – Powerful Anti-inflamatory!
Delivers in excess of 4500mg of turmeric
 

per 10ml!!!
Contains: Purified water,
 

fermented turmeric, black pepper, cinnamon, ginger, alfalfa powder, wheatgrass powder, apple powder, chick peas, mung peas, maize, linseed, brown rice, millet, alfalfa seed, agave, glycerol, inulin, lactobacilicus culture (fermented with green barley powder and vegan friendly), molasses!!

Directions / Serving Suggestions:

Shake gently, remove lid slowly. Each 10ml of Zap Turmeric Elixir delivers: in excess of 4,500mg of turmeric. 2 teaspoons twice daily may be consumed on its own or mixed with juice or water.

600ml Bottle can last up to 2 months – using as directed.

 
Suitable for vegans, NO added sugar, palm oil, nasty fillers, preservatives, artificial colours, flavours, yeast, gluten, wheat, nuts or dairy products