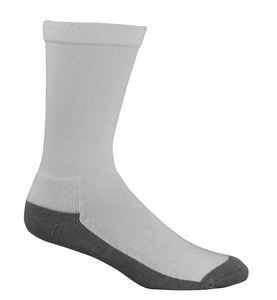 Ultra comfy socks with antibacterial and anti-odour properties. Designed with a looser fitting top to not restrict circulation, and bamboo charcoal fibre base to absorb toxins from the soles of the feet (charcoal is commonly and widely used orally by health professionals as an antidote to poisoning). Charcoal also re-radiates far infrared rays which is very beneficial for cell metabolism and general foot health. Your feet will thank you!
Composition - 46% Bamboo, 20% Bamboo Charcoal viscose, 28% Cotton, 6% Elastane
Colour - White/Grey base (also available in "Black/grey base")
Learn more about Bamboo Textiles here.